StreamVision delivers a complete powerful and cost-effective turnkey IPTV solution allowing real time distribution of a vast amount of digital TV and radio channels over a multicast IP network. The system enables the digital distribution of numerous and various TV and Radio channels towards many client terminals: Set Top Boxes, computers, TV sets or projectors.
StreamVision's IPTV solutions mainly applies to media (television and radio stations), institutional markets (hotels, hospital, residences...) educational markets (universities, campuses) and industries. 
StreamVision provides access to all TV and radio channels available on satellite, cable and terrestrial TV. For instance, a head-end positioned on Hotbird can supply potentially more than 800 channels on the network.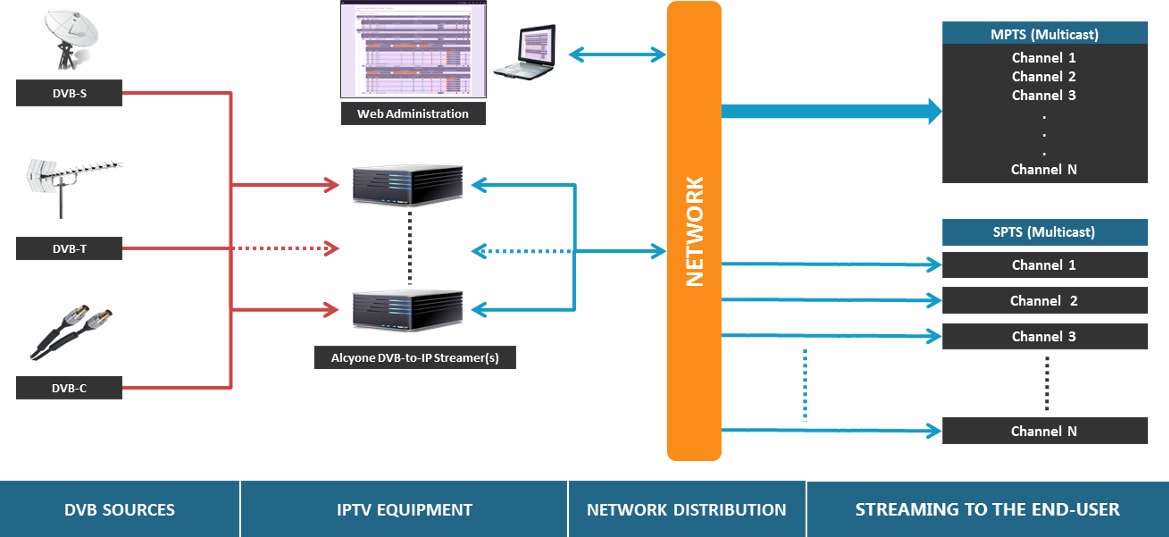 Alcyone is an elementary 'building block' for designing IPTV head-end systems. It is an integrated electronic appliance designed for industrial environment that inputs DVB streams and outputs them on an IP network. Original digital signals are transmitted with their incoming quality without any processing, decompression or conversion process.
Demodulator, MPTS demultiplexer, and IP streamer for multicast architecture

Fully compliant with DVB standards (MPEG-TS, SD & HD)

Real time processing of a complete transponder (TV & Radio channels)

PID filtering

EIT and EPG handling

Administrable, dynamically configurable

Remote control from the StreamVision's Request Server and Atlas middleware

Linux-based architecture (remotely upgradable)

Status and failure monitoring.
Products listed hereafter can be combined with Alcyone to build TV head-ends fully compliant with each customer needs:
MPEG2 & 4 Alcyone encoders or any IP multicast streamers

Private channels broadcaster


Request Server and Atlas middleware

"TV Head-end PLUS" software package for higher reliability and redundant architectures