StreamVision's solution for Hospitality market has been designed to match premium hotels, residences and hospitals needs, offering high added-value in-room entertainment services to guests. Just watch the video below to see all possibilities offered by our IPTV solution.
StreamVision's solution meets the specificities of each client profile and project size. Its modular design makes it flexible so that the hotel can choose between any combination of features to fit with its specific requirement or constraints. The system, fully digital and IP-based, powered by its unique Atlas™ middleware, is seamlessly expandable (new features, more clients, more channels distributed, open ports for third-party applications such as Property Management System or Building Management System...)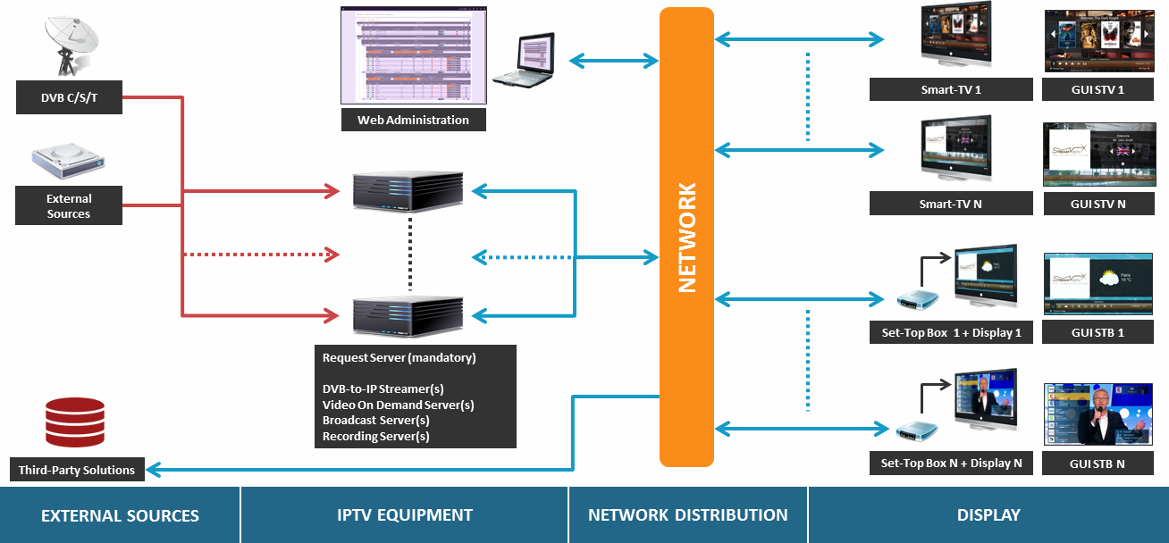 The provided services, all manageable through the user-friendly customizable web interface of Atlas™ software, include:
In-room (TV):
Hospitality functionalities (information, message system, room service, concierge services…)

Personalized guest services (welcome message, parental lock, language selection, view bill…)

TV Channels (

Sat, terrestrial, cable

, TV&radio,

SDI/analog IP-encoded channels

, private channels broadcast, Mosaic display…)
Stored content access (VOD,

Pay TV

...)

Internet access with TV set and IR keyboard (with third-party ISP)

In-room hotel marketing and maintenance tools (promoting hotel's group, advertising...)

Notifications (emergency / promotional / informative messages pushed on groups of terminals…)
Hotel public areas:
Messaging board (facilities information and public announcements…)

Digital Signage

(customizable advertising content, breaking news…)
Hotel's management:
Hotel back office (video content management with instantaneous TV gateway tuning, guest information management…)

Hotel front office (interfaces with Property Management System - PMS - and Building Management System - BMS)
Increasing guest satisfaction and loyalty, encouraging guests to use in-room services, multiplying opportunities for hoteliers to generate additional revenue are the principles of StreamVision's strategy.