These products have been selected and integrated by StreamVision as complementary OEM 'building blocks' for designing IPTV head-end systems. These integrated electronic appliances have been designed for industrial environment; they input AV signals (HDMI, SDI, Analog, ...) and output them to an IP network. General and common features are :
Real time processes for encoding and multicasting

Multi-standards (MPEG1, MPEG2, H264)

Multicast IGMP output

Administrable, dynamically configurable with Web service

Rack mount system or stand-alone packaging

Standard (SD) or High (HD Ready, Full HD) Definitions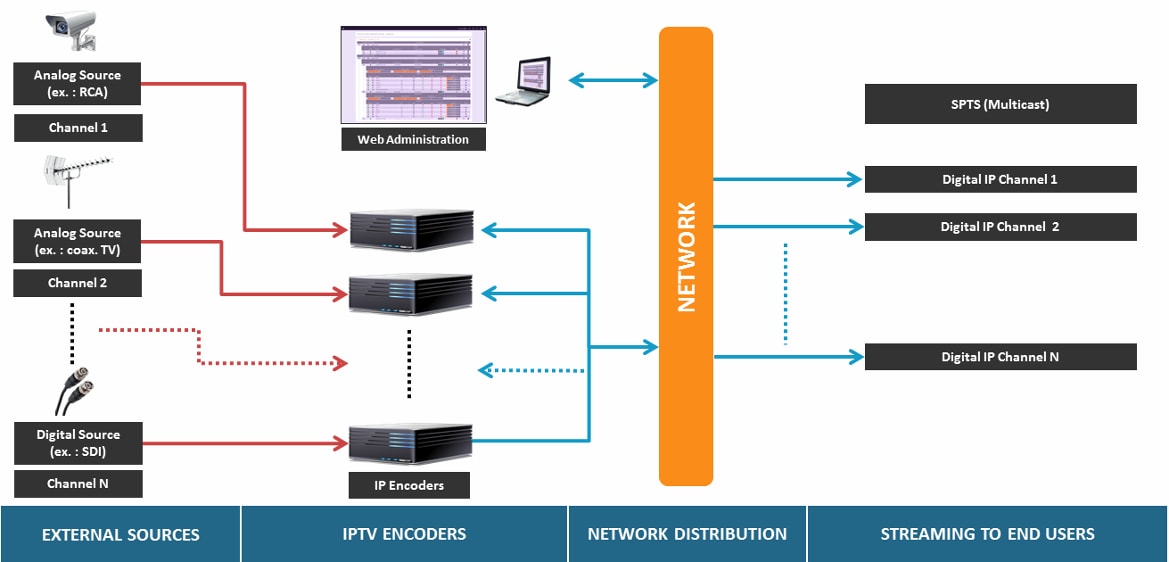 Encoding devices allow creating and customizing internal TV channels (CCTV) for multi-purpose use, such as advertising, information, promotion, security or entertainment. These new local TV channels are fully managed by ATLAS application software; they are offered to the end user as standard TV channels that can be selected and displayed as others. Some typical examples are:
Encoding any analog TV channel (many broadcasters are still delivering PAL/NTSC TV)

Encoding PC signal output to distribute information such as graphics, Power Point presentation, or drawings in corporate environment

Encoding Camera or WebCam outputs to display activities, weather broadcasts, animations

Encoding and recording CCTV information for security and surveillance purposes

Simultaneous low bandwidth encoding for Web distribution.